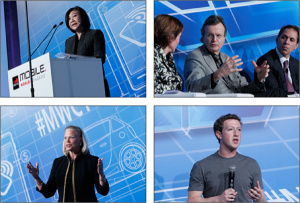 Over the course of four days, 2-5 March 2015, Mobile World Capital Barcelona will host the world's greatest mobile event: Mobile World Congress.
The mobile communications revolution is driving the world's major technology breakthroughs. From wearable devices to connected cars and homes, mobile technology is at the heart of worldwide innovation. As an industry, we are connecting billions of people to the transformative power of the Internet and mobilising every device we use in our daily lives.
In short, we're on The Edge of Innovation, and the possibilities are endless. The 2015 GSMA Mobile World Congress will convene industry leaders, visionaries and innovators to explore the trends that will shape mobile in the years ahead.
We'll see you in Barcelona!
ABOUT THE EVENT
Depending on the type of pass selected, attendees can take advantage of the many components that make up this industry-leading event:
A world-class thought-leadership Conference featuring visionary keynotes and panel discussions
A cutting-edge product and technology Exhibition featuring more than 1,900 exhibitors
The world's best venue for seeking industry opportunities, making deals, and networking
App Planet, the Centre of the Mobile Apps Universe, where the mobile app community gathers to learn, network and engage with innovators
And the Global Mobile Awards programme, where we recognise industry innovation and achievements
TAKE PART IN MOBILE WORLD CONGRESS 2015
Registration for MWC 2015 will open later this year. However, if you'd like to Get Involved by being an Exhibitor, Sponsor, Partner or Advertiser at the event, contactour Sales team today!
Want to be notified when registration opens? Why not subscribe to our event emails? We'll keep you up to date on event news and announcements.